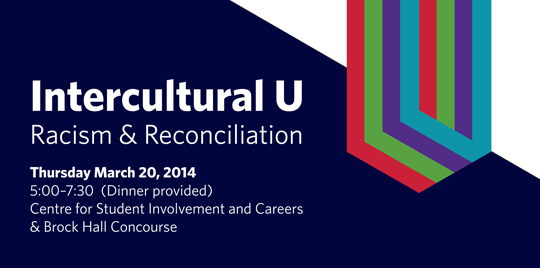 Intercultural U: Racism and Reconciliation took place on March 20, 2014. We will be posting information about the event soon.
Intercultural U was an exciting event involving group discussions on topics related to intercultural understanding and an interactive presentation by Changing the Lens at UBC on creating positive change (read more about them below). Group discussions were led by academics and community organizers.
Discussion Facilitators:
Prof. Henry Yu
Associate Professor, Dept. of History, UBC and Principal, St. John's College, UBC
Dr. Yu's discussion will center on the work presented in his article titled Global Migrants and the New Pacific Canada.
Dr. Lori MacIntosh
Post-Doctoral Fellow, The Institute for Gender, Race, Sexuality and Social Justice, UBC
Task Force Member for UBC's Transforming UBC and developing a culture of equality and accountability: Confronting rape culture and colonialist violence, UBC
Dr. MacIntosh's discussion will center on the goals emerging from the Draft Recommendations paper, "Transforming UBC and developing a culture of equality and accountability.".
Matthew Ward and Skye Maitland
Fourth-year students majoring in First Nations Studies, UBC
Matt and Skye are interested in having the sometimes difficult, often uncomfortable, but always illuminating conversations about indigenous/settler relationship building. They are interested in feeling vulnerable, asking questions and not always having the answers.
Peter Wanyenya
International Student Advisor, Special Populations & Programs, International Student Development, UBC
UBC's Really? Campaign
Peter Wanyenya will be speaking to the work he is doing with the Really? Campaign and the "Active Witnessing Model" for social justice. The "Active Witness Model" encourages all individuals, regardless of their gender, race, sexual orientation, ethnicity, disability, socioeconomic status to adopt leadership roles at the university and in their communities. Informed by social change theory, this model is one that encourages every individual to move from being a passive witness to an active witness in their daily lives and empowers them to take an active role in promoting positive social change. For more information visit http://really.ubc.ca.
Changing the Lens at UBC Presentation
Changing the Lens at UBC presents an audience-interactive forum performance exploring issues of inclusion and social justice on campus. In the relative safety of a UBC classroom, high emotions and deep complexities are revealed. We glimpse into the lives of aboriginal and non-aboriginal students as they navigate through awkwardness and the pain of First Nations realities.
Changing the Lens is a student initiative that aims to generate critical thought and dialogue in the UBC community by exploring relevant social issues through forum theatre, an audience-interactive style of theatre. Members of the community with personal interest in a particular theme share their experiences and opinions through theatre workshops to develop a theatre piece that is then presented to the wider public. At each performance, the pieces are performed twice. The first time, the piece ends with no conclusion. The second time the piece is performed, the audience is invited to stop the action on stage and intervene to change the outcome of the situation.